Trust Not Your Handyman With Your Old Wiring
Harnessing the power of electricity has gone through many phases in its evolution. Immediately upon the invention of the electric light bulb in 1879, electricity became widely used as means to facilitate lighting in factories. By 1885, a third of those factories reported electrical fires during its initial introduction. Focusing on the importance of quality craftsmanship, early electricians where well-aware of the inherent hazards associated with electrical installations.
Today, those hazards haven't changed. The destructive power of electricity is the same as it was a century ago. What has changed is the use of advanced materials, technology and knowledge. No longer are houses wired with conductors insulated with rubber which become brittle over time and crack. Prior to 1950, grounding was considered a hazard, until it was developed as a technology. Unintentional grounding caused many fires upon the introduction BX cable the 1920s, when fault current caused by a short, travelled along the outer sheath of the cable, heating adjacent materials in attics and walls above there ignition point.
A lot more is known about installing electricity safely, than was known in the early years. The average handyman has no more knowledge than the electricians of the 1880s. In addition, the potential for electrical shock and fire hazard still remains. What is worse, because of the use of different technologies introduced through the years, mixing modern technologies with those of earlier years, can introduce additional hazards. Most electricians, are only trained in the use of the most modern technology, and not those found in older homes. Most handymen are not trained in any of these technologies, nor do they respect the power of electricity. In most cases, they do not even know the purpose of a ground and why it is important. Therefore they often omit connecting it or connect it improperly.
For Quality Wiring You
Can Count On...
Call 404.234.6777 Today!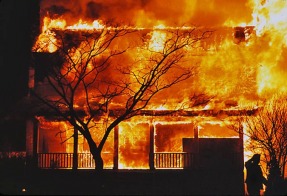 ---